Migration Study Finds Big Gains in Some Fla. Metros
The study looked at net gain – people moving in vs. people moving out – and Fort Myers moved to No. 1 in the first quarter from No. 8 one year earlier.
ORLANDO, Fla. – Updater, a data company and part of the National Association of Realtors®' (NAR) inaugural REach program, looks at data such as Wifi account changes to analyze moving trends and produces quarterly reports on relocations in its United States Migration Report: Q1 2021. Updater's report analyzes 300,000 moves over the past year.
According to Updater, several Florida metros showed notable population increases in the first quarter of 2021. The company looked at net migration – the number of residents moving in versus the number moving out – and listed Florida as No. 4 nationwide for attracting the highest percentage of new residents compared to the number of Floridians who moved out. Nevada ranked first, followed by South Carolina and Tennessee.
Florida metro rankings in the top 20
1. Fort Myers: No. 1 compared to No. 2 the previous quarter and No. 8 one year earlier (1Q 2020)
5. Sarasota: No. 5 compared to No. 6 quarter-to-quarter and No. 32 year-to-year
11. Tampa: No. 11 compared to No. 17 quarter-to-quarter and No. 16 year-to-year
12. West Palm Beach: No. 12 compared to No. 7 quarter-to-quarter and No. 22 year-to-year
13. Lakeland: No. 13 compared to No. 29 quarter-to-quarter (Not listed year-to-year)
16. Jacksonville: No. 16 compared to No. 28 quarter-to-quarter and No. 17 year-to-year
17. Melbourne: No. 17 compared to No. 3 quarter-to-quarter and No. 18 year-to-year
Updated also noted a new trend – or the reversal of an old trend: People seem to be moving back to cities after the pandemic drew many of them to smaller towns or suburban areas. The exodus from cities such as New York, San Francisco and Boston slowed after losing record numbers of residents in 2020.
"It's been fascinating to watch migration patterns shift away from cities and to warmer weather climates during the pandemic," says David Greenberg, Updater founder and CEO. "With vaccinations underway, restrictions lifting in some of our hardest-hit cities, and companies rolling out permanent hybrid working solutions, we're anticipating a summer moving season unlike any other with a series of new atypical patterns."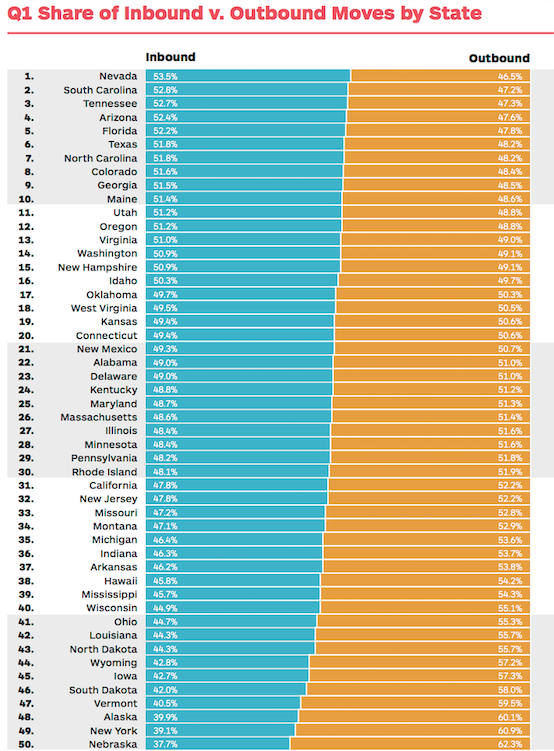 Updater
Source: "United States Migration Report: Q1 2021," Updater (2021)
© 2021 Florida Realtors®