If you are thinking about selling, now is a great time! Inventory is very low and prices are going up. We are happy to have a confidential meeting in person or virtually to talk about what your home is worth in today's market. Contact us to schedule a meeting.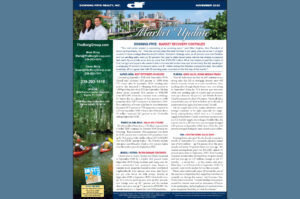 November 2020 Market Update from Downing Frye Realty, Inc.
DOWNING-FRYE: MARKET RECOVERY CONTINUES
"Our real estate market is recovering at an amazing pace," said Mike Hughes, Vice President of Downing-Frye Realty, Inc. "This has actually been the best October in six years, plus we've had 5 straight months of more closings than the month before. October's closings were up 43 percent over last October and our pending sales were up 32 percent. Our year-to-date closed sales volume has already surpassed last year's figure at this same time by more than $100,000 million. What has helped propel this market is that the high-end buyers who weren't able to be here last winter have now arrived early this fall, resulting in a whopping 67 percent increase in sales over $1 million during this October compared to last. November is already off to a good start with 22 pending sales recorded on the first day of the month."
NAPLES AREA: BEST SEPTEMBER ON RECORD
Comparing September 2020 with September 2019: Closed sales increased 52.9 percent to 1,096 from 717 closed sales in September 2019. Pending sales activity also increased a whopping 83.4 percent to 1,509 pending sales from 823 last September. Median closed prices increased 18.2 percent to $384,000 from $325,000. Inventory continues to be a challenge for buyers due to a decrease of 32.2 percent to 3,980 properties from 5,873 properties in September 2019. The availability of homes with four or more bedrooms decreased 37.9 percent to 779 properties compared to 1,255 in September 2019. Closed sales of homes above $2 million increased 30.7 percent in the 12-months ending September 2020.
MARCO ISLAND AREA: SALES ARE STRONG
The Marco Island Area Assoc. of Realtors® reported that October 2020 compared to October 2019 showed the following: Total inventory (812 properties) was down by 43.18 percent and closed sales (244 properties) were up by 78.1 percent with a dollar volume ($173,936,696) that was 160.58 percent higher. The October median sales price was $482,251, which is 10.1 percent higher than the median price for September 2020.
BONITA / ESTERO: BUYER DEMAND CONTINUES
Closed sales in Bonita Springs and Estero increased in September 2020 by a notable 42.6 percent versus September 2019. Long timelines and rising costs for new construction have prompted many buyers to consider resale properties located in older, established neighborhoods. Low interest rates mean that buyers can get more house for their money. Activity in September 2020 vs September 2019: Closed sales were up 52.8 percent, pending sales were up 80.2 percent, new listings were up 18.7 percent and the median closed sales price was up 7.1 percent to $325,500. The current inventory in September was 1,102 properties.
FLORIDA: MORE SALES, RISING MEDIAN PRICES
"And all indications are that we will continue to see strong sales this fall as mortgage interest rates will almost certainly remain at or near record lows. New pending sales of single-family homes were very strong in September, rising by 31.4 percent year-over-year, while new pending sales of condos and townhouses were up a dramatic 43 percent," said Florida Realtors Chief Economist Dr. Brad O'Connor. "Given all that's occurred this year, it's hard to believe we're already in positive territory again, but here we are," he said.
On the supply side of the market, inventory (active listings) continues to be tight, especially for single-family existing homes, which were at a 2.2-months' supply in September. Condo-townhouse inventory was at a 5.1-months' supply. According to Freddie Mac, the interest rate for a 30-year fixed-rate mortgage averaged 2.89 percent in September 2020, down from the 3.61 percent averaged during the same month a year earlier.
USA: EXISTING HOME SALES SOAR
Existing-home sales grew for the fourth consecutive month in September to a seasonally-adjusted annual rate of 6.54 million – up 9.4 percent from the prior month and nearly 21 percent from one year ago. The median existing-home price was $311,800, almost 15 percent more than in September 2019. Total housing inventory in September declined from the prior month and one year ago to 1.47 million, enough to last 2.7 months – a record low – at the current sales pace. More than 7 in 10 homes sold in September 2020 (71 percent) were on the market for less than a month.
"Home sales traditionally taper off toward the end of the year, but in September they surged beyond what we normally see during this season," said Lawrence Yun, NAR's chief economist. "I would attribute this jump to record-low interest rates and an abundance of buyers in the marketplace, including buyers of vacation homes given the greater flexibility to work from home."
Sources: The Bonita Springs-Estero REALTORS®/SWFLMLS, Naples Area Board of REALTORS®, National Assoc. of REALTORS®, Florida REALTORS®
Marco Island Area Assoc. of REALTORS®
If your property is currently listed with another broker, this is not a solicitation of that listing.